Jellyfish Filter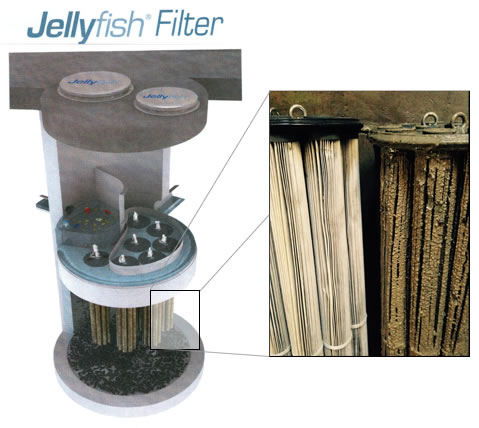 The Jellyfish Filter is a Canadian engineered Stormwater Quality treatment technology featuring pre-treatment and membrane filtration in a compact stand-alone treatment system that removes high-level and wide variety of Stormwater pollutants. Exceptional pollutant removal is achieved at high treatment flow rates with minimal head loss and low maintenance cost.
The Jellyfish Filter – Setting New Standards in Stormwater Treatment
The Jellyfish Filter features a high surface area and high flow rate membrane filtration at low driving head. By incorporating pretreatment with light-weight membrane filtration, the Jellyfish Filter removes floatables, trash, oil, debris, TSS, fine silt-sized particles and a high percentage of particulate-bound pollutants; including phosphorus and nitrogen, metals and hydrocarbons. The high surface area membrane cartridges, combined with up flow hydraulics, frequent backwashing, and rinseable / reusable cartridges ensures long-lasting performance.
Jellyfish Filter Maintenance
Minotaur is the factory approved company providing maintenance throughout Ontario & Québec.
Pricing and services may vary due to your geographical location. Units that require special considerations and time sensitive inspections or services require site specific pricing.