Jellyfish® Quality Assurance Plan
Minotaur is the factory approved service provider for Forterra Jellyfish® Products
The way it works
Minotaur will contact you to schedule the installation of the filter cartridges in the Jellyfish® structure.
The installation is done once the site is stable and the construction phase has ended.
An inspection of sediment levels will be done 6 – 12 months after installation. The owner will then be informed of the sediment level.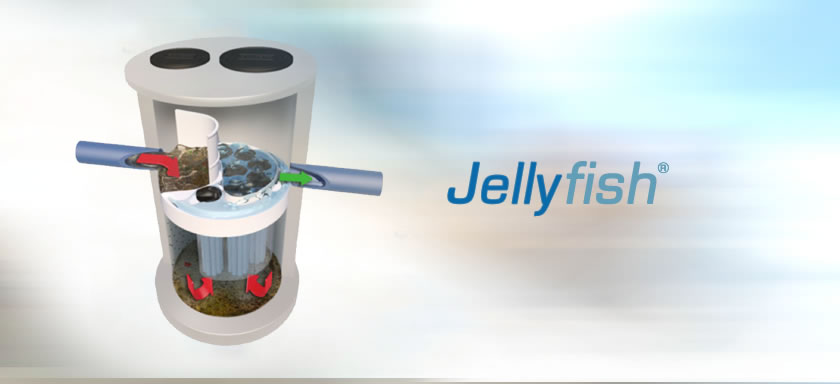 What you need to know about Jellyfish® Filters
The cartridges in your Jellyfish® are a valuable asset and must be maintained to preserve their efficiency. Minotaur recommends regular visual inspections of the unit until a site specific maintenance schedule can be determined.
The owner is responsible to keep the filters clean.
Minotaur will contact the owner to set up a service plan.
The contractor is responsible to control construction sediment from entering the Jellyfish®;
The contractor is to make sure the Jellyfish® tank is cleaned when the project is complete.
Environmental Risk Management
Stormwater regulations are increasingly calling for more robust treatment levels.
The Jellyfish® Filter removes floatables, trash, oil, debris, TSS, fine silt-sized particles, and a high percentage of particulate-bound pollutants; including phosphorus and nitrogen, metals and hydrocarbons.
The high surface area membrane cartridges, combined with up flow hydraulics, frequent backwashing, and rinseable/reusable cartridges ensure long-lasting performance.
The cartridges will require a cleaning at a minimum of once a year.
The cleaning requires a Confined Space Entry team, experienced in the handling and cleaning of the filters.
Minotaur will assist the property owner to establish an efficient and cost effective maintenance plan for inspection, monitoring, service and testing to meet your individual site plan or subdivision agreements.